studio word is a design studio established by kyuhyung cho and jungyou choi in 2018. kyuhyung cho is a graduate of konstfack, who majored in storytelling, and jungyou choi is a graduate of design academy eindhoven, majored in man and wellbeing, and of ecal, majored in luxury and craftsmanship. studio word is based in seoul and europe, active in the design fields of graphic, product, furniture and space.
they are striving to coin a creative and useful language of design based on their close observation and discovery of their surroundings and objets, their comprehensive understanding of tradition and modernity, as well as their work ethic of maintaining fresh perspectives and genuineness. they have collaborated with camper, the conranshop, hermes petit h, iittala, audo, osulloc, reuge, samsung, yéol, among others.

this oddly carpet was inspired by paintings from the joseon dynasty depicting strangely shaped rocks called goeseokdo...+
fade collection expresses the forms as soft shades. each side insinuates subtle senses of volume with deepening shades ...+

a hwamunseok (flower-patterned woven mat) patterned with black and the natural color of wang'gol. strips of milky ...+
throughout the years, the gat has endured as an item of traditional male formal attire symbolizing the dignity…+
ceramic mini light is a rechargeable table lamp produced by two ceramic crafts, kim deok ho and lee in wha...+
record word player, installation, 2020
records change the way you treat music. this is because it entails a laborious process and effort to take out a record...+
waltz is a freely drawn pattern of dynamic lines. the unique rhythm and soft melody of the waltz are drawn as...+
breezm 2nd flagship store, space, 2019
breezm assesses the client's face with 3d scanner and measures the distance between the pupils, the width ...+
thanks to 3d printing technology, you can easily print all shapes of glasses at each attempt, and you ...+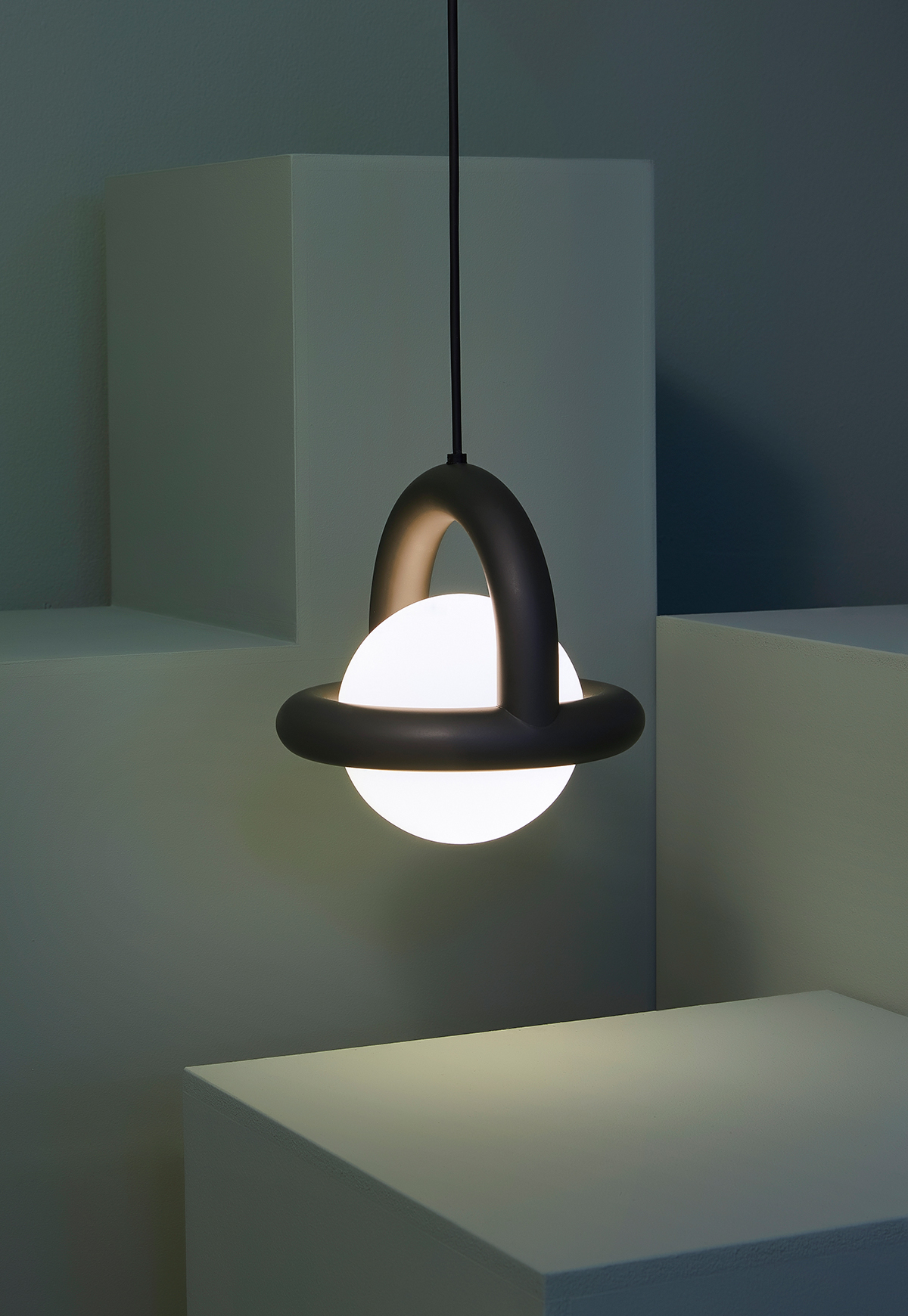 balloon can be a lamp that can bring life to the space with its bold, playful yet well defined silhouette. It has a new ...+
maison galleria is a vip lounge built outside of the department store providing a special ...+
nubi Tray is born from the reinterpretation of the formative language of nubi and traditional ...+
when we write on paper, we start from the upper left corner. it allows us to structure our words and gives us ...
+
observing the work of the master, we were able to glance into our forefather's wisdom rooted in the creation of ...
+
wire number is a numeral system for outdoor and indoor entrances. inspired by the beauty of customized door ...+
this two-way string backpack was designed for mosca's 2018 fall winter presentation point • point ...
+
moss lamp was inspired by the long stem of the moss and the shade of the moss mushroom. As the shape of ...
+
long ago, mankind used natural objects like naturally created stones as chairs and tables. although nature ...
+
there is a beautiful theory of love in the work of jungyou choi. we often wonder what true love is; this artist ...
+
a limited edition print by kyuhyung cho. inspired by dal hangari, a traditional korean white porcelain ...
+
in the street of old town in hoi an, vietnam, lines of electronic poles make different landscapes of shadow ...
+
the desire for a healthy and long life, wisdom, goodwill, peace, nature as is and ideal world. the traditional paintings of ten longevity symbols
tulip candleholder combine vintage and modern forms. tulip's soft forms conform to the gentle flame of the ...
+
netflix's original take 1 is performed by renowned korean musicians to give a song of their choice the greatest live...+


wild geese (gireogi) have traditionally symbolized love, and so it is customary to have a pair of wooden geese present ...+

wancho craft is patterned with the natural weave of weft crossing over warp. this object was patterned according to ...+


the addition of a glass vessel makes this wancho-woven vase functional. Its unique form and pattern is the result of ...+


throughout the years, the gat has endured as an item of traditional male formal attire symbolizing the dignity…+
loose grid, installation, 2019
grid is a guideline in the form of crisscrossed parallel bars which is used when composing a plane. it is a tool of...+
word table light has been inspired by the texture and structure of columns from ancient greek architecture...+
purposefully designed not to match; instead, the distinct pieces are an ode to the differences among the ...+
in modern society, the conversation between people is mainly done in digital and the words come and go ...
+

openness musicbox, product, 2015
opening a door to music to discover a beauty.music boxes are often closed and the movement inside is not easily ...+

room collection, product, 2014
when it comes to furniture, people are used to placing a object within a square space. while it is common ...+

t
he famous handmade color hanji of shinpoong was used by hand fan artisans of namwon region to make...+


the goal of the project was to create a collection of tableware by using the mixture of two different...
+

colors of egg, product, 2016
this project is an ongoing research of finding beauty in a natural material which we throw away unconsciously ...+


fade collection, product, 2014
fade is a collection of vessels and furniture for the bathroom consisting of 13 pieces all derived from the ...+


plateau bench, product, 2014
at the start of the project we were looking at ways to create a bench for ourselves but what would happen ...+

banyantree swimming pool, space, 2017

beam shelf, product, 2014
beam is a simple metal shelf with a hidden space. a wooden beam slotted across its length adds another ...+

hemp vase, product, 2012
from museum to home collection. a series of the hemp vases are made from machined hemp, a traditional ...+


mitini, space, 2013

mitini is a soulmate in nepali. worked for 3 months as an art director of the social enterprise activation center ...
+

habit & reflection, product, 2013
it is natural to get attracted by what is being familiar with and natural to touch one's mind when you are away ...+


making everyday, exhibition, 2018

the 'in common ownership' designs for the products have been developed over the past year and combine ideas and skills drawn from ...
+
most people have at least one brand's symbol that they are a fan of, like apple computer or penguin books ...
+

ploi-yongsan, space, 2017
camper together, space, 2022
just as camper respects and loves different personalities and thoughts, we believe different shapes, materials, and colors ...+


this wood container collection is a series of wancho container which carries a sense of voluptuous dimension added ...+
round wancho container, product, 2021
this wancho container carries a sense of voluptuous dimension added through the application of a large curve around...+
this object began with a single hap (a round, broad, shallow lidded box) previously used as a sewing basket. three ...+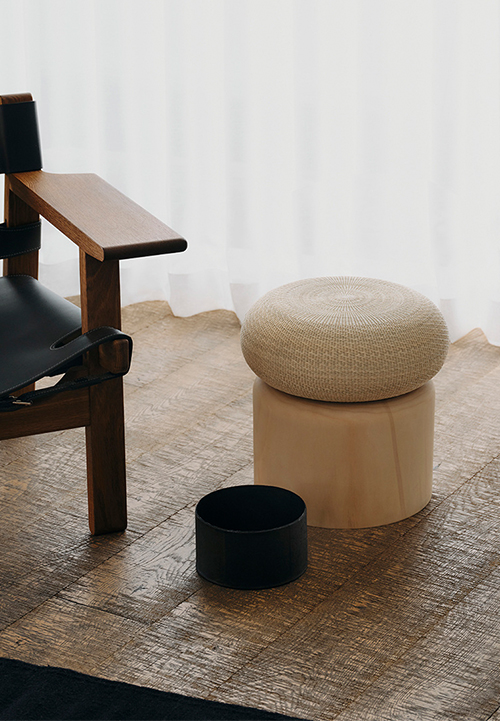 like round wancho boxes, the gentle curvature of this side table's cover is characterized by its smooth, densely woven...+
a ham, or chest for bridal gifts, made of a round cover wrapped in wang'gol and a box finished in lacquer. the unpretenti ...+
maison galleria, space+furniture+bi, 2019
maison galleria is a vip lounge built outside of the department store providing a special space which ...+
velvet is not used in korean traditional furniture or space, but for this project, we have studied its new structure ...+
a gentle humor. the collection of home accessories designed with discarded handles of hermès' umbrella ...
+
there are two types of small shelf made of steel. small circles are placed perpendicular to a fully circular ...
+
a line was defined as a trail of the moving point. the point goes straight and turns into a cylinder, the point ...
+
poke stool is the first furniture piece created by a typography designer, kyuhyung cho. the inspiration ...
+
true to kaj franck's timeless philosophy of simplicity and functionality, teema tiimi collection is inspired by the ...
+

pictograph font, graphic, 2011
abc pictograph fonts_in the history of letters there have been many ancient forms of pictorial symbols that ...+
paradise city alip, space, 2018


horizon, product, 2016
astronomy and telling the time, in particular as related to celestial mechanics. this is an instrument ...+


onggiscape, product, 2012
the onggiscape is a collection of tablewares. the studies of materials and techniques to make onggi in ...+


sine collection, product, 2014
sine collection is a hanger system for clothing and accessories inspired by the regular tempo of sine wave ...+


coffee maker, product, 2015
coffee dripper pot designed with a handle of m'passion copper sugar saucepan from mauviel's original ...+


tea balance, product, 2017
tea balance was inspired by the scales we used at a pharmacy in the joseon dynasty. i focused on the efficacy of tea in tea ...+

cloud workshop, graphic, 2010
the cloud workshop was set up in the blåsut t-bana station in stockholm. passengers participated in making ...+
festa, space, 2016