round wancho ham, product, 2021
a ham, or chest for bridal gifts, made of a round cover wrapped in wang'gol and a box finished in lacquer. the unpretentious milky white of the wancho and the delicate texture of the curved cover strike a harmonic balance with the deep, bright coloration of the lacquer.
dimensions 
large Ø228 h103 mm / small Ø158 h 103 mm
materials
wancho, ottchil (traditional korean lacquer) in wood
-
commissioned by yéol for 2021 yéol project
in collaboration with
wanchojang huh sung ja
national intangible cultural heritage no.103 wanchojang (sedge weaving) graduate
-
wancho crafts is made by harvesting green wang'gol in late summer and repeatedly wetting and sun drying it until it attains its characteristic milky white color, then finely splitting it and twisting and weaving it by hand. when warp and weft are interwoven to complete the bottom of the object, its shape is finalized through the steps of sam'ori to reinforce the edges and undu to build up the sides. in the process, characters or patterns are woven in to form beautiful designs, and the surface is smoothed out and the shape refined by hammering it with a golbangmang'i. traditional patterns and colors are added to the bases of samhap (broad, shallow, rounded boxes, or hap, made in sets of three), dong'guri (round boxes), and sajuham (rectangular boxes used to store sajudanja, the traditional letter to the bride's family containing the four pillars of the groom) to create a world of variation. containers for sewing kits or sweets in the early joseon dynasty, and holders for women's accessories, cosmetics, or embroidery tools in the late, wancho craft experienced a boom centered around ganghwa during the modernization of the 1960s to 1980s.
although wancho is uniform in structure, soft of colors, and durable enough to stay sturdy and resistant to crumbling over time, its replacement by mass-producible receptacles consisting of materials such as plastic, steel, or glass has vastly reduced its production and consumption. once regarded as daily necessities, now they are treated as traditional crafts, merely decorative objects. clearly, we are in need of a new turning point for the reintegration of wancho craft into our lives. It was under these conditions that we collaborated with national intangible cultural heritage no.103 wanchojang graduate huh sung ja on the 2021 yéol artisan of the year project. the wanchojang of today are experimenting with the expansion of wancho craft functionality, and with new forms and designs. I believe that these efforts can move beyond reproducing traditional crafts, into the realm of adapting wancho crafts into modern culture and heightening their recognized value as works of art.
wang'gol has high tensile strength but bends easily, making it well suited as a crafting material. after interweaving warp and weft, a length of remaining wang'gol measuring about half the height of the crafted object's sides is tucked inside and fixed in place so as to keep the walls (or undu) straight. the sides thus created are tightly woven and double-layered, reaping the advantages of both flexibility and durability. However, as the walls are built up out of pure wang'gol without any framework for support, there is a limit to how tall the object can be, and it is difficult to render a variety of different forms. to overcome these drawbacks, we drew up designs incorporating wooden frames into the weaves, or beginning with wooden frames but removing them after the weaving is completed. the works built around wooden frames were able to express the generosity of volume belonging to wide curves, while those from which the frames were removed afterward were able to realize higher outer walls as well as a variety of forms difficult to execute in conventional wancho craft, such as cones, octagonal pillars, and triangular prisms. in order to create previously unattempted forms we studied recent artisanal experimentation into new weaving techniques and structures, which in turn led to interesting textures. we were also able to blow life into the graceful, flowing lines of the craftwork, leaving them with a gentle yet refined touch.
in this project, we contemplated further upon the functional value of hap as tools for storage, as well as their emotional value as items that evoke comfort and warmth. we exercised restraint in the use of color in order to accentuate the objects' elegant and unostentatious, yet bold and exciting charms, and to showcase the natural beauty of wang'gol's characteristic milky white hue. in crafts woven purely from wang'gol, the surface texture allows the sequence and variation of the weave to take center stage, while contrast and balance imbue the object with character and vitality. objects highlighted for their unpretentious textures and sense of volume were combined with the understated sheen and rich colors of lacquered containers to add a refreshing touch of style.
these new approaches to wancho crafts and hwamunseok were completed in the capable hands of artisan huh sung ja. born in ganghwa and accompanied by wancho since her earliest years, artisan huh sung ja is making waves in the competitive craftworking scene not only for the expertise and persistence essential to any master wanchojang, but also for her innovative perspective and modern sensibilities. it was beautiful to behold wang'gol transformed at the fingertips of the master artisan, creating form and space over the course of long hours, anchored in place. as wancho craft must be woven with exactitude, pulling the warp and weft taut, their shapes are built up with strength and absolute focus. the tension of the production process is absorbed by the meticulous weave; its surfaces are milky as a newborn child, its contours full-figured and clean-cut, its aura serenely reassuring.
this past year has been one spent in a mad dash to create craftwork superb in both function and form, combining the wisdom of traditional techniques passed through the artisan's hands with modern aesthetics and a flexibility of approach. the protraction of the covid-19 pandemic has led us to spend more time at home than ever, longing for nature and for the simplicity of everyday life as we once knew it. we search for sustainable modes of living in novel ways, by raising plants and owning furniture and items that suit our tastes. i hope that wancho crafts, with its touch of nature, will be able to enter our daily lives as our lifelong companions, making room in our lives for people as well as objects in need of a resting place.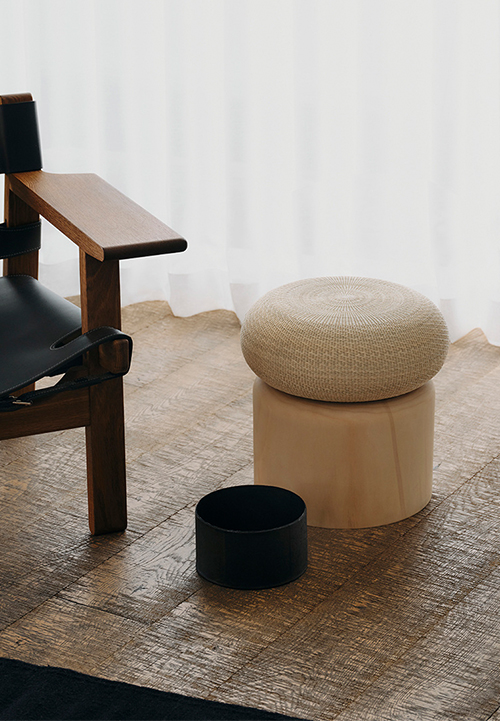 like round wancho boxes, the gentle curvature of this side table's cover is characterized by its smooth, densely woven texture and helical pattern...+
gireogiham, product, 2021
wild geese (gireogi) have traditionally symbolized love, and so it is customary to have a pair of wooden geese present when exchanging marital ...+