black pot, product, 2018
this project was a collaboration with a cast iron master who has encouraged the wider use of korean traditional cast iron for generations. observing the work of the master, we were able to glance into our forefather's wisdom rooted in the creation of the traditional cast iron. generally, fluoride or enamel coating peels off and leaving food stick to the bottom of the pan while the peeled coating chips get into the food and cuase health hazard. on the contrary, the traditional approach used in anseong jumul which creates a natural oil-layered coat by taming the pot with sesame oil preserves the natural taste of the ingredients. iron is naturally absorbed into the food which benefits to your health. the pot is long-lasting; even when rust is formed outside, it could be removed and used again after seasoning. adding to the traditional pot's strengths, elements of modern korean beauty to it. inspired by the joseon dynasty's daily items, the pot was designed with a mix of familiarity and novelty by using both straight lines and curves to naturally match with the other asian and western kitchenware at home. in the traditional version, the fire would heat up the rounded bottom of the pot; i designed it a flat bottom with heat pathways which allows the pot to be heated on any type of cookware. i preserved the design of the pot lid knob which represents the iconic character of the traditional version.
dimensions
mini pot w195 × d134 × h228 / mini pan w230 × d134 × h78 / pot w240 × d170 × h168 / pan w297 × d170 × h97 / deep pan 45 w323 × d255 × h73/ deep pan 60 w323 × d255 × h88/ oval pan w370 × d200 × h88 / mini pancake pan w247 × d189 × h35 mm
material
cast iron
collaboration with cast iron master jonghoon kim for 2018 yéol project
exhibition
yéol project 2108: crafts of fire, 2018.09-10, seoul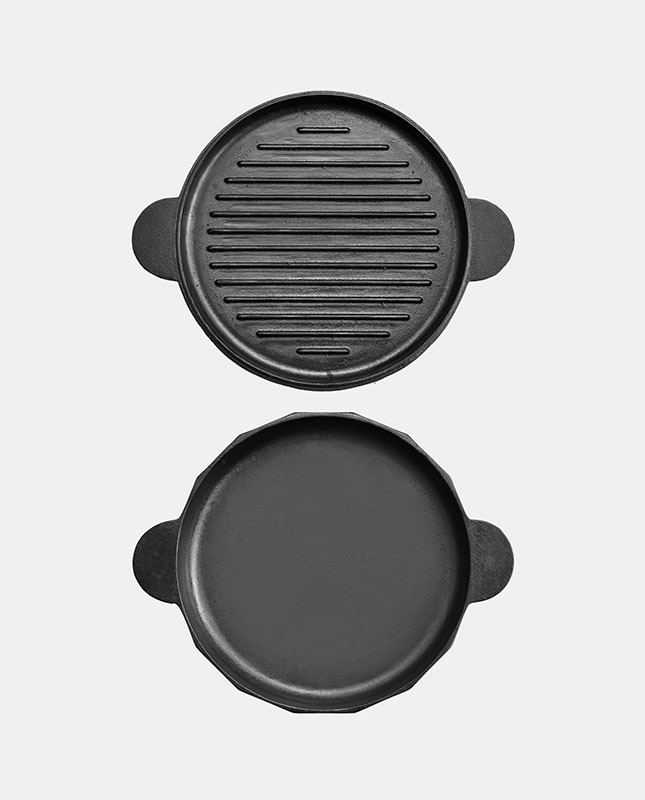 round wancho container, product, 2021
this wancho container carries a sense of voluptuous dimension added through the application of a large curve around the rim...+
nubi Tray is born from the reinterpretation of the formative language of nubi and traditional ...+

making everyday, exhibition, 2018

...
+